Overall Approaches
We are committed to SDG 12.3, which targets to halve per capita food waste at the retail and consumer level by 2030.

The preferred way to manage food waste is to avoid wasting food at the onset, but this is no easy task, especially when many people are unaware of the necessity to reduce food waste, not to mention the huge gap between consciousness and behavior.
Traditional ways of promoting reducing waste, such as posters and slogans, are less effective and often overlooked due to a lack of engagement and motivation. Therefore, there needs to be an effective way to raise public awareness while also being proactive and easily engaged.
To respond to this major challenge, we developed and implemented "Clear Plate" APP. After meal, you could take plate's picture through our app and will get credits if AI identifies you didn't waste food. These credits can be used to exchange gifts or donate charity meals.
Partnering with restaurants, private companies and government, we have already amassed 7.5 million users who have taken more than 67 million Zero Food Waste actions, which is equivalent to reducing food waste by 2600 tons and carbon emissions by 10000 tons. Meanwhile, cooperative foundations, companies and us have been donating over 400,000 RMB to "Zero hunger for Ethiopian children", "Free meals for the elders in need" and other charity projects.
Group feature is also a highlight of this APP, which helps us work together with all key players from public or private sectors to fight food waste. Organizations who are keen to embark on their own programme can set up their own group and receive our toolkits for outreach programmes. In particular, we have designed table-top stickers with QR code that could be easily placed on the dining table to remind people not to waste food.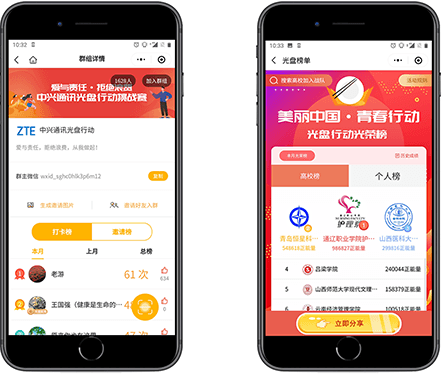 Based on the group function and outreach programmes, we have already created a series of practical cases in universities, restaurants, NGOs and government institutions. According to the comparison of food waste data before and after using our app, the average food waste amount was reduced by 12%-30% per month.
Through our programmes, events, and activities, we are facilitating a cyclical process of increasing awareness, empowering advocates, building community and creating change.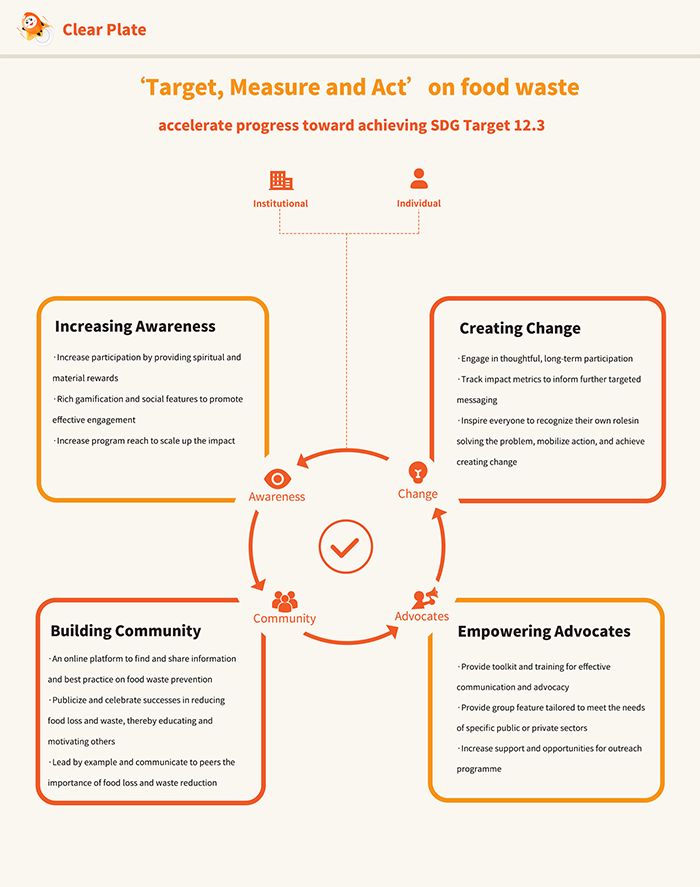 In the future, we will use technology to incite group power, use events to trigger people's active involvement, use data to present the actual societal and environmental benefits, and unite forces from various industries and sectors to create greater social influence.
Programs